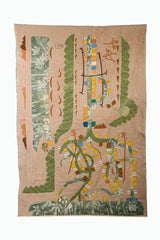 The great legacy of the Egyptian chronicler
Muhammad Ibn Iyas, whose life spanned the
end of the Mamluk era and the beginning of
the Ottoman era are his writings capturing
the spirit and land of Egypt in evocative detail.
This tapestry, based on a map in Ibn Iyas'
manuscript entitled "The book of wonders of
information from the land of Egypt –
 Egypt shows ) كتاب عجائب الاخبار فى خطط مصر )
seen from the north looking south,
challenging how we think of this land.
It encourages us to rethink what we know, to
notice what we might not have noticed, and
to reflect on what has endured or faded away.
Dimensions
157 x 233 cm